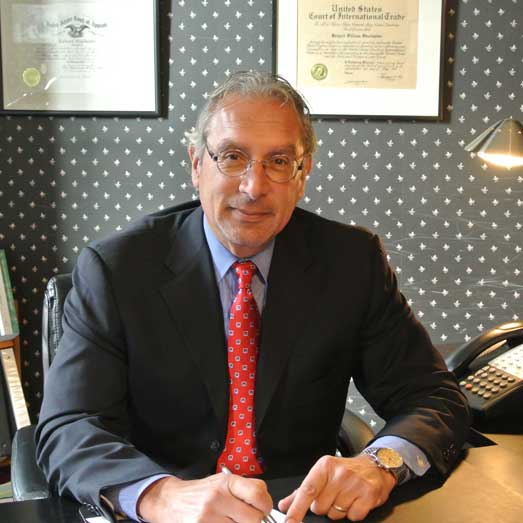 Richard Winelander is a trial and appellate defense lawyer who practices in the State and Federal courts of Maryland as well as the District of Columbia. He is listed in the current edition of Who's Who in American Law and he teaches Law at Towson University. Over the years he has been sought out for TV and radio commentaries. Mr. Winelander is a Major in the Maryland Defense Force. He developed and courses in Cyber Law and International Business Law at Towson University.
Richard Winelander has also received nationwide exposure for his representation of Super Psychic Uri Geller. In a recent interview Mr. Geller this to say about Mr. Winelander:
"I have known Richard both professionally and as a friend for many years. At the lowest point in one of my legal affairs Richard came into my life with his brilliant strategy and pulled me through a difficult legal dilemma. In all these years he has handled my cases brilliantly. I can not think of anyone else in the legal field who is as intuitive, perceptive and open minded. These qualities give him the talent and ability to handle any case with astounding results…"
Uri Geller
London, England
August 4, 2000
Mr. Winelander has substantial experience in defending state and federal criminal cases. He is skilled in all aspects of criminal defense, including pre-indictment investigations, bail hearings, motion practice, plea bargain negotiations, jury trials, sentencing hearings, and appeals. He has handled hundreds of cases in the District, Circuit, and Federal Courts.
Mr. Winelander has represented numerous individuals and companies including employees, attorneys, doctors, entertainers, police, law students, psychics, college students and juveniles.
Bar Admissions
Court of Appeals of Maryland 5/24/79
U.S. Customs Court 5/30/79
Baltimore City Bar 6/12/79
U.S. District Court for the District of Maryland (Bar #00045) 8/8/79
U.S. Court of International Trade 5/1/81
U.S. Court of Appeals for the Fourth Circuit 7/20/81
Supreme Court of the United States of America 8/20/82
District of Columbia Court of Appeals (Bar #420697) 10/17/89
U.S. Court of Appeals for the Third Circuit 4/9/90
U.S. District Court for the District of Columbia 3/1/93
U.S. Court of Appeals for the District of Columbia Circuit 8/10/93
U.S. Court of Appeals for the Eleventh Circuit 4/14/94
Appellate and Reported Opinions
Richard Winelander began his appellate career, when as a Law Clerk, coauthored a brief for Alvin Leon Anderson. The resulting opinion, by the Court of Appeals of Maryland, in Anderson v. State, 282 Md. 701, (1978) applied the Terry Stop and Frisk Doctrine, announced by the Supreme Court in Terry v Ohio, 392 U.S. 1 (1968), for the first time. As a result Mr. Anderson's conviction was overturned with instructions to suppress the handgun seized from the paper bag he was carrying.
Since that time Mr. Winelander has briefed and argued numerous cases in the Maryland Appellate Courts and Federal Courts thought the Country. The following is a list of some of those cases.
Published Opinions
Painter's Mill Grille, LLC v. Brown, 716 F2d 342, 2013 U.S. App. LEXIS 10530 (4th Cir. Md., May 24, 2013)
U. S. v. Ortiz, 669 F.3d 439 (4th Cir. 2012)
Fisher v. McCrary Crescent City, LLC, 186 Md.App. 86, 972 A.2d 954, cert. denied, ___ Md. ___ (2009), cert. denied, 131 S. Ct. 637 (2010)
Doe v. Geller, 533 F.Supp.2d 996, 2008 WL 314498 (N.D. Cal. 2008)
Sykes v. State, 166 Md.App. 206, 887 A.2d 1095 (2005) cert. denied, 393 Md. 162, 900 A.2d 207 (2006)
Wyatt v. State, 149 Md. App. 554, 817 A.2d 901, 2003 WL 1145427 (2003)
Fare Deals Ltd. v. Glorioso, 217 F.Supp.2d 670 (D. Md. 2002)
Fare Deals Ltd. v. World Choice Travel.Com, Inc., 180 F.Supp.2d 678 (D.Md.2001)
Geller v. Randi, 40 F.3d 1300, 30 Fed R. Serv.3rd1304, 23 media L. Rep. 1401(D.C. Cir.1994)
Traverso v. State, 83 Md. App. 389, 574 A.2d 923 (1990)
U.S. v. Meitinger, 901 F2d 27 (4th Cir 1990)
U.S. v. Sheffer, 896 F2d 842 (4th Cir 1990)
Franklin v. Gupta, 81 Md. App. 345, 567 A.2d 524 (1990)
Burris v. Richards, 79 Md. App. 557, 558 A.2d 750, cert. denied, (1989)
Melnick v. C.SX., 312 Md. 511, 540 A.2d 1133 (1988) affd 68 Md. App. 574, 493 A.2d 385 (1988)
Cemiglia v. Pretty, 674 F. Supp. 1167 (D. Md. 1987)
U.S. v. Crews, 813 F.2d 1310 (4th Cir.) cert. denied, 484 U.S. 834 (1987)
Falise v. Falise, 63 Md. App. 574, 493 A.2d 385 (1985)
U.S. v. Callazo, 732 F.2d 1200 (4th Cir. 1984)
U.S. v. Lutz, 666 F.2d 69 (4th Cir. 1981) cert. denied, 102 S. Ct. 1642 (1982)
Thomas v. Ford Motor Credit, 48 Md. App. 617, 429 A.2d 277 (1981)
Lee v. State, 47 Md. App. 367, 423 A.2d 267 (1980)
Unpublished Opinions
Mouson v. State, CSA Opinion by Murphy C.J. unreported reversal #2441 (2006)
Demidenko v. Demidenko, 364 Md. 535, 774 A.2d 408 (Table) (2001)
United States v. Watson, No. 95 5346, 1996 U.S. App. LEXIS 386, December 14, 1995, Submitted, January 9, 1996, Decided (4TH Cir.)
United States v. Whyte, No. 92 5848, No. 93 5018, 1994 U.S. App. LEXIS 312, December 16, 1993 Submitted, January 10, 1994, Decided. Reported in Table Case Format at: 16 F.3d 414, 1994 U.S. App. LEXIS 7387. (4TH Cir.)(A. Smallwood)
United States v. Arrington, No. 90 5384, No. 90 5392, No. 90 5393, No. 90 5394, No. 90 5395, No. 90 5396, No. 90 5397, No. 90 5398, No. 90 5402, No 90 5403, No. 90 5404, No. 90 5407, No. 91 5254, No. 91 5275, 1992 U.S. App. LEXIS 30851, October 1, 1992, Argued, November 23, 1992, Decided,., Reported as Table case at 1992 U.S. App. LEXIS 35204 (4TH Cir.)(J. Forrester)
United States v. Johnson, No. 91 5149, 1992 U.S. App. LEXIS 9885, January 10, 1992, Submitted, May 7, 1992, Decided, Reported as table case at 962 F.2d 8, 1992 U.S. App. LEXIS 17228 (4TH Cir.)
United States v. Oliveras, 840 F.2d 11; 1988 U.S. App. LEXIS 1798, February 16, 1988, Decided (4TH Cir.)
Boyle v. State, CSA unreported per curiam reversal #1258 (1987)
United States v. Rider, Nos. 829 F.2d 37; 1987 U.S App. LEXIS 11329, August 24, 1987, Decided (4TH Cir.)
United States v. Okolo, No. 86 5176 , 820 F.2d 1220; 1987 U.S. App. LEXIS 7219, June 8,19987 (4TH Cir.)
United States v. Kizgin, Nos. 85 5182(L), 85 5183, 85 5184, 803F.2d 1181October 27, 1986, Decided
Hunt v. Simms, CSA unreported per curiam reversal #328 (1984)
Pleadings of Note